UPCOMING CONCERT OF NEW WORKS!
DECEMBER 10, 3 PM, BETHANY PRESBYTERIAN CHURCH
GRANTS PASS, OREGON
Love to sing?
Come join us this fall for a
premiere performance of Ola Gjeilo's new
Twilight Mass for chorus and orchestra.
Rehearsals are Thursday evenings in Grants Pass, from 6 – 8 pm, beginning September 7.
Call for a low-stress audition with the director, Kate Campbell
541-254-1210
(Leave a message saying who you are and when to best reach you)
The 3 Rivers Chorale is a membership supported community choir located in Grants Pass, Oregon. Kate Campbell is our music director. We are dedicated to bringing fine concert music to our audiences.
3 Rivers Chorale
P.O. Box 1742
Grants Pass, Or. 97528
541-592-2981
---
Some of our Chorale Members are going to be Singing in New York City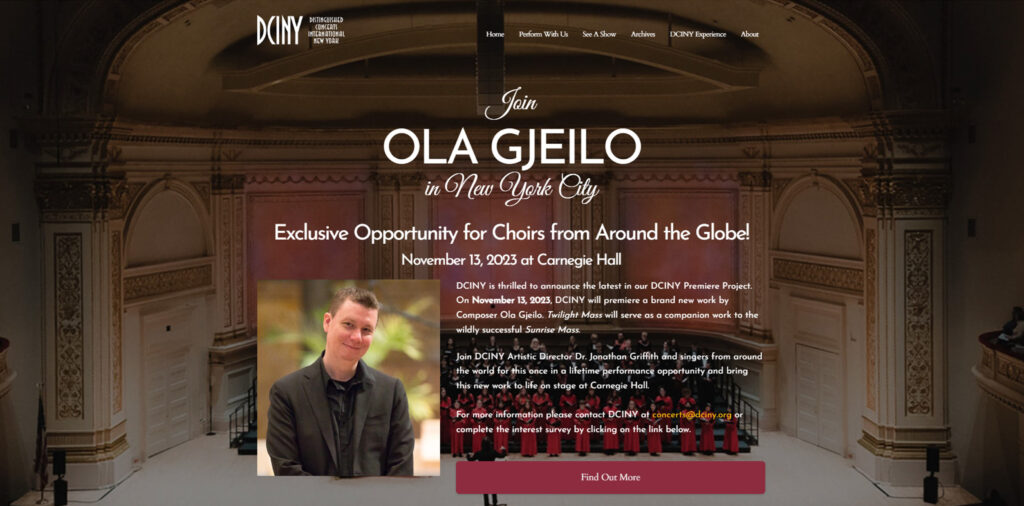 ---
Our very first Virtual Choir Offering
This is one story of how Leadbelly introduced this song to his audience. Leadbelly's Uncle Bob Ledbetter had a wife named Silvy. When he was out plowing with his mules he would often holler for Silvie to bring him some water. After a long time this holler developed into a little song. When Leadbelly performed outside of the South, he often taught the audience the background of his songs so the audience would understand. Audiences from New York often had little concept of the rural South.
---
Some in the Chorale participated in Eric Whitacre's Virtual Choir 6.
117,572 singers from 129 countries.
Lyrics:
May we sing together, always, May our voice be soft, May our singing be music for others, And may it keep others aloft. Sing gently, always, Sing gently as one.
May we stand together, always, May our voice be strong, May we hear the singing, always, And may we always sing along. Sing gently, always, Sing gently as one.
Quotes from Grants Pass Daily Courier about these virtual choir numbers
Music to their ears: Local singers find a way to do what they love in a pandemic.
"After participating in a worldwide performance, members of the 3 Rivers Chorale have started their own virtual choir. "
"When Whitacre put out the call to join his latest project this spring, the response was overwhelming, with 17,752 singers from 129 countries taking up the challenge.
Jodie Fulton and about a half dozen other 3 Rivers Chorale members were among them."
"It was rather surreal," Fulton said of the experience. "But it was something that was really necessary for me, for my heart."
"Four singers from the choir — Steve Parker, Jodie Fulton, Alissa Berry and Gerry Watt — got together at Bethany Presbyterian Church, where the choir usually holds its Grants Pass concerts. With strict social distancing, and under the direction of Kate Campbell, they rehearsed and recorded "Bring Me Little Water Sylvie," a soulful folk song by Lead Belly that was going to be part of the chorale's spring Water Music concerts. But those concerts were canceled because of the coronavirus."It is a really moving piece," Campbell says."
"It was an amazing way to connect with people," Rachelle McMahon said. "After so many months of being solitary, I was just happy to be part of a group, to be part of this larger being. It was like medicine."
Kathleen Alaks of the Daily Courier wrote this story about us that was published on August 13. You can read the whole article at thedailycourier.com. (subscription required)