3 Rivers Chorale has been dedicated to presenting fine choral music to our communities for over ten years. First under the direction of Dave Marston, the Chorale sang madrigals and the Beatles in a memorable first concert in 2004. Since Kate Campbell took over in 2010 following Dave's untimely death, singers in the Chorale have performed two or more concerts each year, in Grants Pass, Cave Junction and at Crater Lake National Park.
---

3 Rivers Chorale is putting on a show in a couple of weeks unlike any other!  For the first time in its history, 3RC is offering a cabaret-style banquet-hall dinner show.  The concert is titled 
"In the Spotlight — Songs from the Stage" and will be offered for one night only, Oct. 27 at 6 pm at the Grants Pass Golf Club banquet room.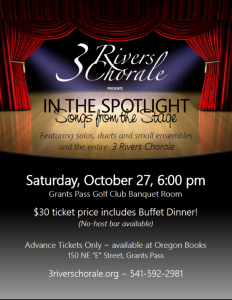 All the entertainment will be provided by our own singers, some of whom have already performed onstage in musicals, in opera companies, or as part of publicly-performing family bands.
 A full dinner is included in the ticket price (along with a no-host bar) with the menu provided by the excellent chefs at the Grants Pass Golf Club.
The music will run through a slew of musicals from Broadway — solo and duet numbers as well as full choir arrangements.  Many of these live stage musicals were seen recently in person by our members who sang in NYC at Carnegie Hall in April of this year.  It was very exciting — and inspired a lot of our impetus for putting this show on!
Included on October 27 will be numbers from Phantom of the Opera, Les Miserables, Sound of Music, Wicked, South Pacific, and others.  
There will also be a short segment of music from a different kind of stage — the kind with a pulpit.  We have spirituals of the secret coded slave-escape era, a men's quartet singing traditional gospel songs, and the beautiful Pie Jesu for soloists and choir from Andrew Lloyd Webber'a Requiem.
Jazz numbers from the 40s, some Stephen Foster, and contemporary love songs will complete the lineup.   Janet O'Donovan, Kate Campbell, and Steve Parker will be providing instrumental support on keyboards and guitar. 
This has been a challenging but fun — and very different — start to our season.   We are working on two concerts at once!  The next will be on January 19 and 20, 2019.
Tickets for "In the Spotlight" will be available in advance only at Oregon Books (E and 7th in downtown Grants Pass) for $30.  Tickets will not be sold at the door.  Folks will want to get their tickets before October 22.
---

"WinterSongs" will be performed January 19th and 20th, 2019 in Grants Pass and Cave Junction.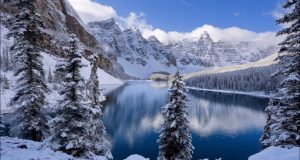 ---

Our Last Concerts
3 RIVERS CHORALE SANG AT CARNEGIE HALL!!!
On Sunday, April 15 members of the Chorale joined other ensembles from as far away as Melbourne, Australia to sing the music of Ola Gjeilo, composer- in- residence. 
We also sang the Ola Gjeilo pieces at our spring concerts on May 5 in Cave Junction and May 6 in Grants Pass.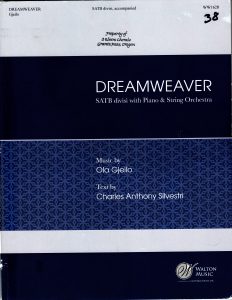 Previous Concert . . .


Three Rivers Chorale Phone: 541-592-2981