3 Rivers Chorale has been dedicated to presenting fine choral music to our communities for over ten years. First under the direction of Dave Marston, the Chorale sang madrigals and the Beatles in a memorable first concert in 2004. Since Kate Campbell took over in 2010 following Dave's untimely death, singers in the Chorale have performed two or more concerts each year, in Grants Pass, Cave Junction and at Crater Lake National Park.
---
Our Last Concert . . .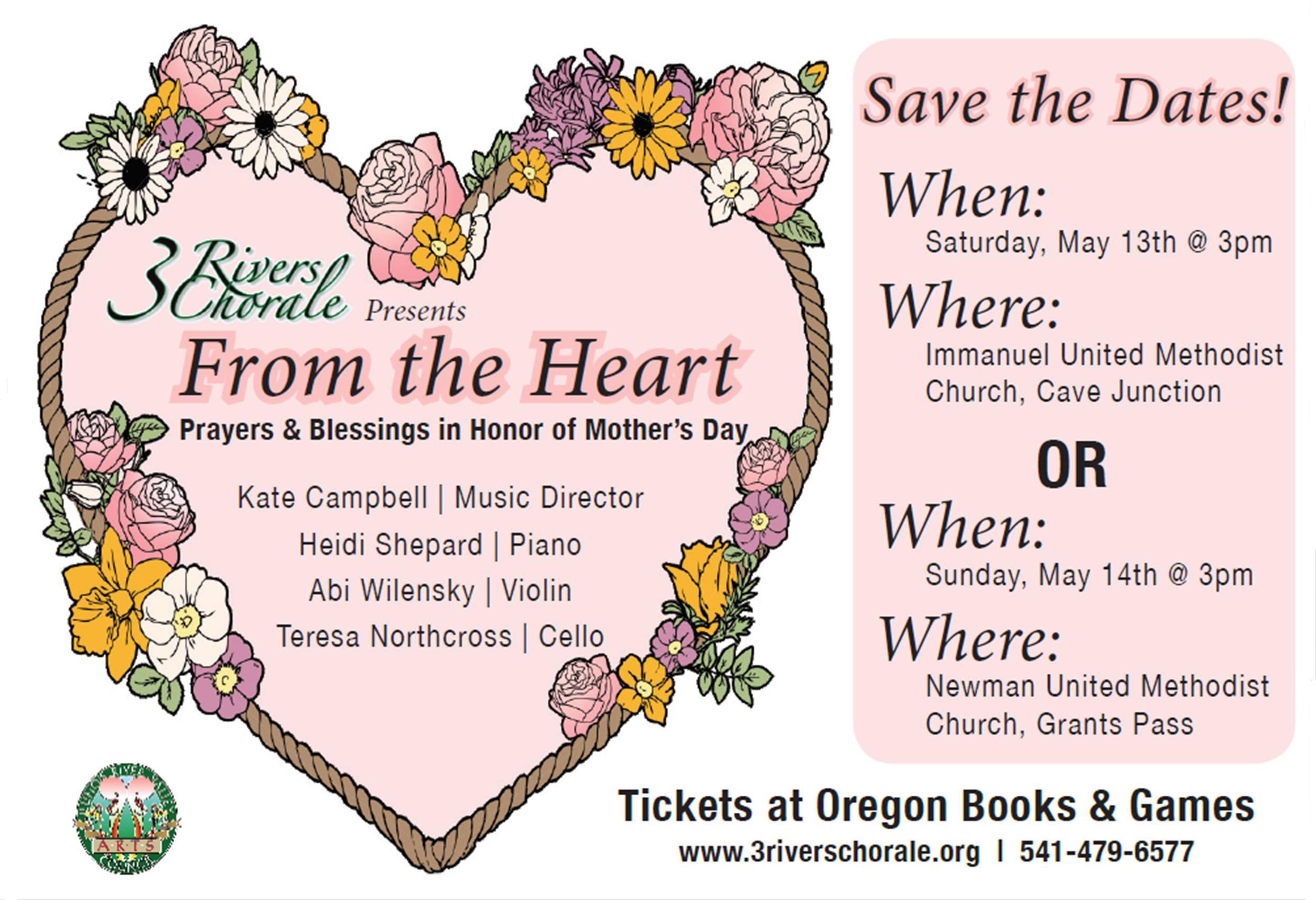 3 Rivers Chorale is pleased to offer a beautiful set of choral music for our spring concert, which falls on Mothers Day this year. 
We honor the life, the love, the soul, and the birth and death of the human being, and the nurturing that accompanies us in our journeys.
Says one of the singers in our choir who is a mother:
  "We share the supreme privilege of participating in a gift of creation through motherhood.  When a baby cries, when we see the half-closed eyes of a tired toddler, when a child bleeds — what primal memory are we likely to have also shared, with mothers throughout the world and throughout history?
"The loving warmth of a comforting mother, rocking side to side with the slumped shape of her little one in her arms, humming or singing a soft lullaby….this is music that lives in our shared memories."
Even if you have not borne children, if you have loved and nurtured a garden, an orchard, house plants, animals, bees, a terrarium, a forest, or simply a patch of this amazing earth, you have an honorary place in the mothering process.  We welcome all.
Our selections for this concert range from spirituals to classical to folk music.  From a long tradition of tributes to the most famous mother of all, Mother Mary, we offer Ave Marias in Latin, and prayers for her grace to touch our lives.
A special set of lullabies from several parts of the world honor the timeless act of creating safety and calm for a newborn. 
At the other end of life, we sing in requiem to honor the passage to another realm, honoring the spirit's continued journey in death.
Here are some of the composers whose music we present — some who are famous and well-loved, others who may be new to you:
Amadeus Mozart, Leonard Bernstein, Johannes Brahms, John Rutter, Bobby McFerrin, John Tavener, Thomas Morley, Pablo Casals, Zoltan Kodaly, Franz Biebl, Eliza Gilkyson and Avrohom Goldfaden.
3 Rivers Chorale is pleased to add the rich sound of strings to our voices;  Abigail Wilensky on violin and Teresa Northcross on cello.  
And we are always happy to showcase our pianist Heidi Shepard.  She has a special surprise for this concert — it involves a spirited piano duet featuring Heidi and her grandmother!
Sponsor

Three Rivers Chorale Phone:  541-479-6577